Why Choose BRJ & Associates?
The BRJ & Associates team understand the complexities and connections between all of the pieces—an operational master plan, facilities master plan, reporting to governing and oversight boards, managing design and construction professionals, and bringing clients to occupancy. Your organization's progress will be born of your own clear goals and our comprehensive solutions.
Building Progress
Doesn't it boil down to progress? Your organization is looking forward and needs buildings and facilities to reflect that progress. While you dedicate your resources and staff to organizational goals, someone needs to manage the planning, design and construction of new and remodeled facilities. The right kind of help recognizes your organization's field of operation but also avoids the one-size-fits-all approach.
Creating Comprehensive Facility Systems and Solutions
It is more than just a phrase— BRJ & Associates is founded on deep experience and a resulting commitment to systems and solutions that really work. The creative, the time-tested, the detailed, and the global — you need facility solutions from experts who work toward your aspirations with you. BRJ & Associates offers the right solutions.
Click Here
to receive a Field Guide to Program Management.
Principals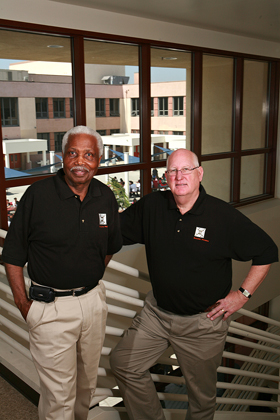 BRJ & Associates, LLC, was founded in 2001 by Dr. Bonnie James, who was joined two years later by his partner, Mark Edwards, AIA.