Infrastructure & Site Improvements
American with Disabilities Act (ADA) Accessibility Improvements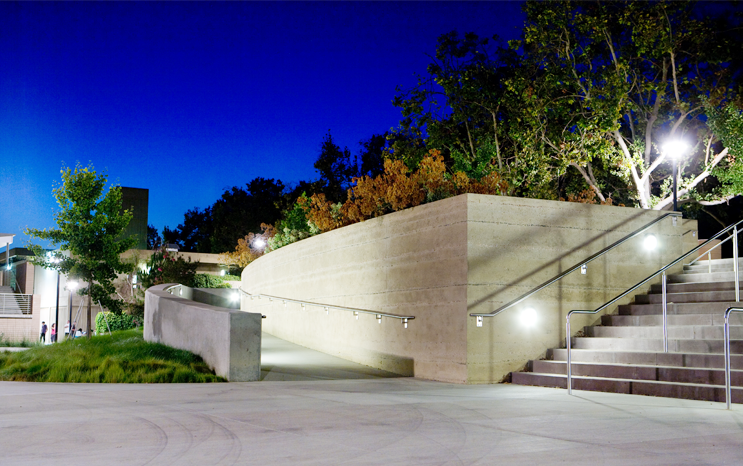 A plan to succeed at every twist and turn of the sidewalk
The renovation of the existing pathways and building egresses was going to create path-of-travel issues, there was no avoiding it. So BRJ started the logistical plans early, during the design phase. Collaborating closely with the design team and campus administration and operations, interim obvious path of travels were incorporated into the design documents to mitigate interruptions to the flow of pedestrian traffic during construction.
Description
Consists of Americans with Disability Act accessibility improvements and development of the master planned accessible path of travel to all areas of the campus. The scope of work included:
College Center Service Access
Hardscape
Fire Access
Pedestrian Ramp & Stairs
Landscape & Irrigation
Pedestrian Lighting
Signage
Parking Lot Development
Challenges
The work of this project was carried out in the middle of an operating community college campus and included improvements to the existing pedestrian pathways and building entrances. This necessitated careful logistical planning to maintain safe access and building egress throughout the construction process. Logistical planning began during the design of the project with our team working collaboratively with campus administrative and operational personnel, the design team, and the construction manager. During the construction of the project, we were diligent in communicating construction progress and in carefully working through the unavoidable logistical changes in advance of their implementation.
BRJ's project role
Planners, Program and Project Managers
Project value
$4,500,000
Project completion date
October 2010
Construction type
site improvements
Partners
Planners: Kitchell/BRJ
Program Manager: Kitchell/BRJ
Project Manager: Kitchell/BRJ
Construction Manager: Tilden-Coil Contractors
Architect: Steinberg Architects
Contractor: Multi-Prime
Agency: Division of State Architect (DSA)
Client
Crafton Hills College San Bernardino Community College District San Bernardino, CA