Education
Century High School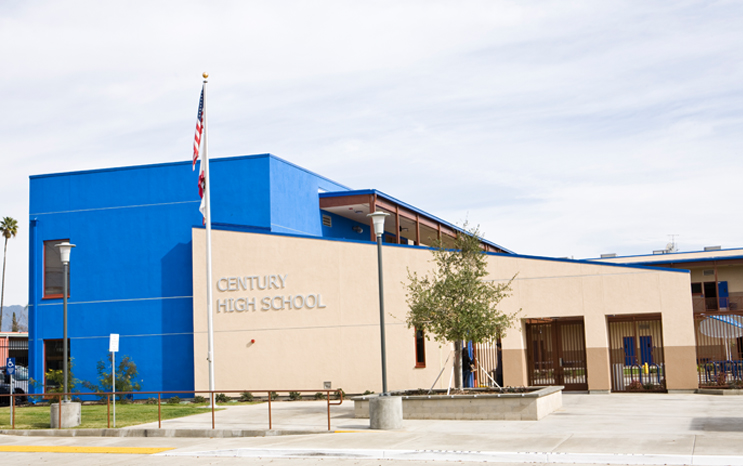 Comprehensive solutions built from complex relationships
It may have seemed for a time that if anything could delay Century High School, it did. BRJ navigated the logistical challenges of funding, scheduling, site location and preparation through the unique relationship developed with the architect, key District personnel, and the contractor. It allowed for agreeable solutions, decisive action, and fast implementation that ensured the new high school opened for the 2011/2012 school year on schedule.
Description
Interim housing, demolition of existing high school, construction of a new high school campus and infrastructure. Two story new facility – replacement for existing continuation high school, includes: classrooms, science labs, administrative offices, facility/staff workroom, library / media center, multi-purpose meeting room, support facilities, courtyards, basketball court, sculpture garden, and bus drop off.
Challenges
Construction logistics included: coordinating interim housing and faculty and staff relocation during the school year; coordinating start of construction with removal of UST fuel tank and soil remediation; and the coordinating of demolition of existing campus with school year session.
BRJ's project role
program, project, and construction managers
Project Value
$9 million
Project completion date
August 2011
Construction type
new construction / site improvements
Partners
Planners: BRJ & Associates, LLC
Program manager: BRJ & Associates, LLC
Project manager: BRJ & Associates, LLC
Construction manager: BRJ & Associates, LLC
Architect: ML Architecture
Contractors: EC Construction, and The Nazerian Group
Agency: Division of State Architect (DSA)
Client
Alhambra Unified School District Alhambra, CA