Infrastructure & Site Improvements
Site Preparation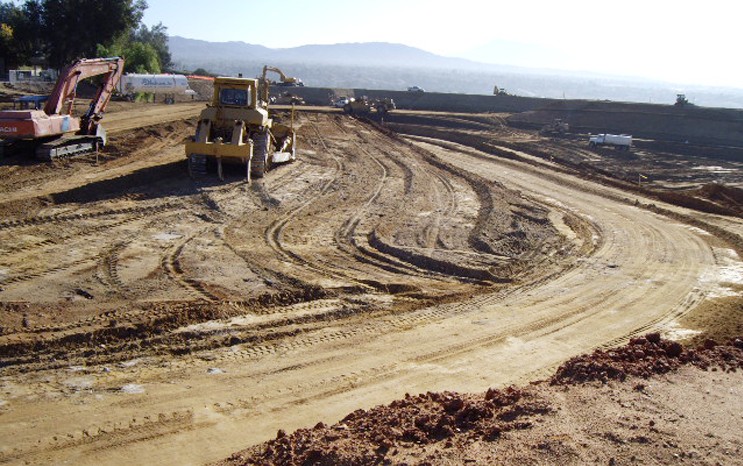 How do you add value when you are deleting design elements?
The fifth phase of infrastructure work prepared the east edge of the campus for the future Community Resource Facility and swimming pool. The substructure design of driven piles for the pool was going to be noisy and expensive. BRJ spearheaded value engineering efforts to implement an alternative substructure design of excavation to bedrock with engineered fill that ultimately saved the client almost a million dollars. BRJ's management proved to be extremely valuable to the client indeed.
Description
Provides site preparation for the future development of a Community Recreation Facility and Athletic Field Improvements. The scope of the project included:
Mass Grading
Mass Excavation & Re-compaction
Drainage Swale and Storm Channels
Drainage Culvert for Existing Campus Access Road
Finish Grading
Challenges
The original design of the project involved extensive use of drilled piles for the support of the new swimming pool and support facilities. Through the strong value engineering efforts of the Kitchell/BRJ Team, we were able to implement an alternate design or excavation and re-compaction that saved the District nearly $750k of construction costs.
The extensive mass grading of areas of the campus previously undeveloped required extensive coordination of study and compliance activities related to environmental protection. Additionally, increased agency requirements for storm water pollution protection required the Kitchell/BRJ Team to work diligently with those agencies and the entire project team to ensure the campus' compliance with these regulations.
BRJ's project role
Planners, Program and Project Managers
Project value
$3 million
Project completion date
October 2010
Construction type
new construction / site improvements
Partners
Planners: Kitchell/BRJ
Program Manager: Kitchell/BRJ
Project Manager: Kitchell/BRJ
Construction Manager: Tilden-Coil Contractors
Architect: Steinberg Architects
Contractor: Multi-Prime
Agency: Division of State Architect (DSA)
Client
Crafton Hills College San Bernardino Community College District San Bernardino, CA